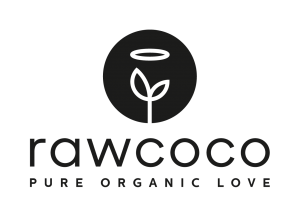 rawcoco's ambition is to change eating habits, incarnate ecological practices that make sense, and spread love through food.
100% organic & vitalising

rawcoco supports organic and local farming practices. our 100% organic certification by ECOCERT guarantees the complete traceability of our ingredients.
everything is organic, vegan and gluten free. our mission is to give you whole foods rich in nutrients that leave your body, mind and spirit full of health and vigor.

our food is prepared at low temperature. the many benefits include the preservation of enzymes, vitamins and minerals that could be destroyed by high heat, as well as the exaltation of flavors.
natural & homemade

our sugars are all natural and unrefined: coconut flower sugar, medjool dates and agave. our olive oil is cold pressed and unrefined, and we prefer the use of whole unmodified fats such as avocado or different nuts.
our juices are cold pressed in the respect of nature, unpasteurized, not high pressure processed (HPP). we bring nuts and seeds back to life through germination.
our recipes are all homemade, almost exclusively from raw products, contain no chemicals and are prepared every day upstairs on the spot.

purified water

we pay careful attention to the water we use to wash and prepare food and hot beverages, as well as to hydrate you:
water is ultrafiltered by reverse osmosis;
slightly remineralized with bioassimilable minerals while passing through a marine alga, the lithothamne;
it passes through a shungite stone which has the property of electromagnetic depollution;
it flows in a vortexer, which reproduces the natural vortices of the course of water and which aerates it.
100% vegetable packaging

all the packaging we use (bottles, trays, pots, straws, lids, etc.) are 100% vegetable fibers, compostable and biodegradable. they contain zero oil and break down in 90 days according to standard EN13432.
our vegetable bottles are created locally tailored. soon, all our packaging already sorted on the spot will be crushed and composted with our organic waste 600 meters away from the shop.
the cutlery is made of naturally biodegradable and compostable birch wood, and is FSC certified, ensuring that forests are managed in a responsible and sustainable way. the wood used to decorate our interior is entirely local chestnut and eco-managed. our team welcomes you in linen apron and in organic cotton polo shirt embroidered rawcoco.
patience, peace, compassion and love are the main ingredients of our recipes and our commitment is to serve you the tastiest natural food you have ever known.
« it is health that is real wealth and not pieces of gold and silver. »
Mohandas Karamchand Gandhi